Keep up with BWG!
Stay up to date with the latest news and information from the Bowling Green – Warren County Regional Airport.

BWG Appoints Airport Manager
Susan Harmon has been appointed Airport Manager at the Bowling Green – Warren County Regional Airport. Click to read the announcement. Please note that the Airport Manager Meet and Greet originally scheduled for September 10, 2019 will be rescheduled. We will post the new date as soon as it is confirmed. 
Record-seeking Pilot Touches Down in Bowling Green
Dan Moore, a pilot attempting to break the current Guinness World Record for "Most Airfields Visited in 24 Hours by a Fixed-Wing Aircraft," planned to visit 110 airports on September 11, 2019, breaking the current record of 87 airports. He landed at BWG at approximately 7:16 on 9-11-19.
He chose September 11 as the date of his world record attempt in order to honor and remember those who lost their lives in the tragic attack on September 11, 2001. His goal of 110 airports was to pay tribute to the 110 floors of the World Trade Center.
His final count of 91 landings by 1 pilot is pending official evidence review by Guinness. This will break the current record of 87 landings set by 2 pilots!
British WWII Plane, Spitfire, Makes Pitstop In Bowling Green
The Silver Spitfire – The Longest Flight visited BWG on Thursday, August 22.  It is a world-first expedition to circumnavigate the globe in a Spitfire and they are all the way from Chichester, West Sussex, England.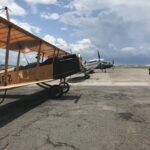 Bowling Green pilot to be inducted into state Aviation Hall of Fame
A Bowling Green man,  Victor H. Strahm, who flew military aircraft in two world wars, is set to be inducted into the select class of aviators at the Kentucky Aviation Hall of Fame in Lexington. Click to read more from the Bowling Green Daily News.