COVID-19 KY Updates 
Click the button below for updates on the COVID-19 situation in Kentucky. Though the Bowling Green – Warren County Regional Airport remains open for aviation users at this time, visit the Airport Updates page to stay up to date with the latest airport information.  
Taxiway Alpha Project Update
The Taxiway Alpha Project is now in Phase 2 of construction. Please refer to the diagram for the new temporary changes of the airfield. Taxiway Alpha between Runway 12-30 and Alpha 3 will be closed for the duration of this phase until June 14. Taxiway Echo will be closed but Taxiway Alpha 3 will remain open. Please visit the Airport Updates page for continuous updates and a diagram of the closed areas. We will keep you updated of changes as they occur. 
Toys For Tots Appreciation Dinner
Our office employees enjoyed attending the Toys For Tots Appreciation Dinner on Monday, February 17. There were 7,446 children served by Toys For Tots Southern Kentucky in the 2019 Christmas season. Thank you to all the volunteers and donors!
REAL ID Licenses Available to Warren County Residents
Warren County residents now have one more option to maintain U.S. air travel and military base entry thanks to the Kentucky Transportation Cabinet's (KYTC) expansion of REAL ID compliant card access during a soft launch of the state's first regional driver's license office outside of Frankfort. Click the button below for more information.
The Longest Flight- Silver Spitfire
Remember the Silver Spitfire that touched down at BWG in August? A team of eight men and the British aircraft from the war era, the Supermarine Silver Spitfire, flew this historic plane to 30 different countries around the world, making stops along the way for gas and to display this aged relic of aviation. They have finally returned home.
"On the 5th of December 2019, The Silver Spitfire Longest Flight expedition came to a triumphant end as friends, family, colleagues, and hundreds of fans welcomed G-IRTY home to a frosty Goodwood Aerodrome. Escorted by two of the Red Arrows Display Team, The Silver Spitfire and the PC-12 support aircraft flew across the English Channel and over the White Cliffs before making it home safely. It was an emotional moment for all the crew and those who had turned out to show their support. Stamp Productions Ltd were on hand to capture the memorable final day of The Longest Flight, and we've made a selection of photos for you to enjoy below. More news to follow soon…#SilverSpitfire #LongestFlight."
Visit their website to learn more about this flight!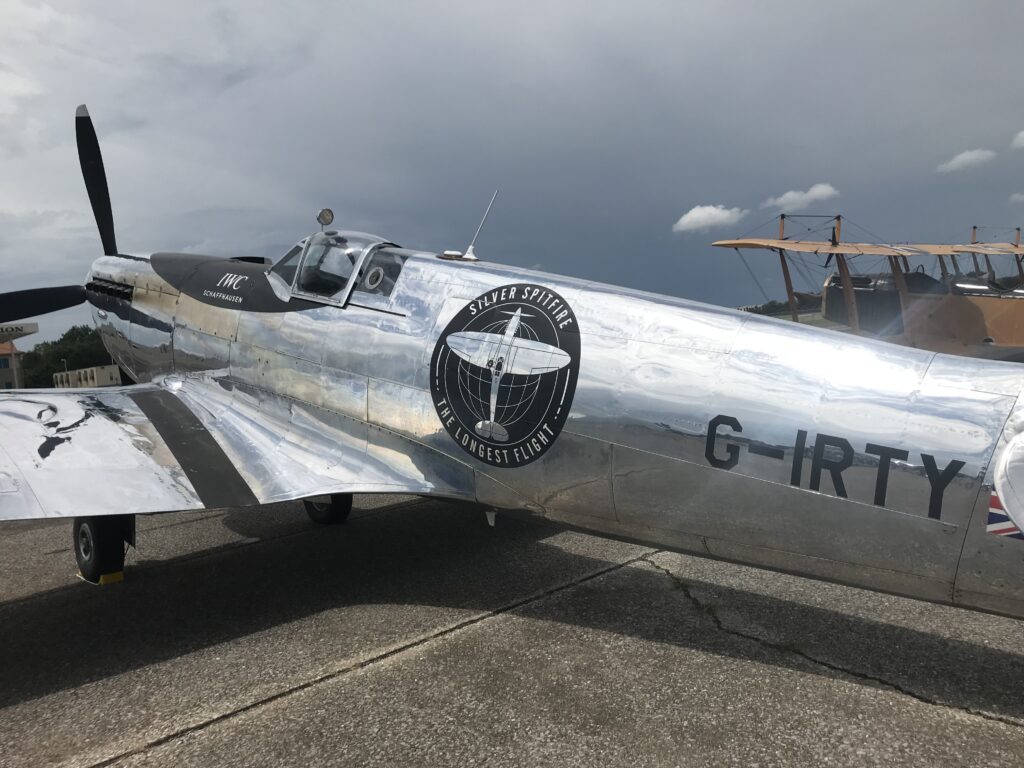 Record-seeking Pilot Touches Down in Bowling Green
Dan Moore, a pilot attempting to break the current Guinness World Record for "Most Airfields Visited in 24 Hours by a Fixed-Wing Aircraft," planned to visit 110 airports on September 11, 2019, breaking the record of 87 airports. He landed at BWG at approximately 7:16 on 9-11-19. He is now the current Guinness World Record holder for the most airfields visited in 24 hours by a fixed-wing aircraft with this final count of 91 landings! It still remains to be determined if the category will be split for team/solo, but Dan has the current world record either way.
He chose September 11 as the date of his world record attempt in order to honor and remember those who lost their lives in the tragic attack on September 11, 2001. His goal of 110 airports was to pay tribute to the 110 floors of the World Trade Center.