Wings for Kids Radio Controlled Airshow
Wings for Kids Airshow is back for another year of exciting model airplane flying exhibitions featuring in-air dog fights, aerobatic airplane, turbine-powered jet aircraft, war birds, and scale vintage planes. The airshow consists of nationally recognized and award-winning pilots from throughout the Midwest and beyond who come to demonstrate their flying skills and model aircraft for the public.
Wings for Kids is fun for the whole family!  In addition to the air show you can also take advantage of these great things and more!
    "Just for Kids" transport vehicle tour
    flight simulators
    the popular airplane "candy drop"
    inflatables
    food and beverage sales
    raffle items
All proceeds benefit Norton Children's Hospital
 Sunday, June 4 at 11:00am to 4:00pm
 Bill Fluke Airfield 2701 N Hurstbourne Pkwy 40223
DreamFlight Charities Presents "Air Venture"
June 5th & July 17
Where: Campbellsville, KY
To all our friends in Campbellsville, check out the "Air Adventure" class facilitated by DreamFlight Charities at Campbellsville University's Kids College! We offer the course both during the week of June 5th and July 17th.
Registration for the week is $80, with our course teaching students in 2nd-8th grade the basics of aviation, including time at the controls of one of our portable simulators! Students may select two courses for the week, with additional options, including archery, cooking, art, photography, and more!
Bardstown Fly-In Breakfast
June 10, 8:30am-10:30am ET
Samuels Field (BRY)
Enjoy a fly-in, drive-in breakfast at Samuel's Field, Bardstown's Municipal Airport! Open to the family, enjoy some food, and check out 40+ planes that will fly-in and out that morning-held the second Saturday of each month from March through October. Adults $10, children 12 & under are $6.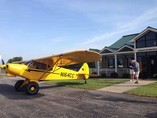 Fly-In Breakfast
June 17, 8:30am-11:30am ET
Lebanon Springfield Airport (6I2)
Enjoy our Fly-In Breakfast every 3rd Saturday of the month!
Bardstown-Samuels Field Airport
8:30am-10:30am ET
Second Saturday of the month
June 10
July 8
August 12
September 9
OBAP ACE Academy-Louisville ADVANCED
July 17-21
The ACE Academy is a multi-day event for middle and high school students that have a general interest in learning about aviation. The goal of ACE Academy is to expose students to many different careers in aviation. We also aim to show them the practical application of the Science, Technology, Engineering, and Mathematics (STEM) subjects. By the end of the program, we hope that the participants will have a broader horizon of the many career opportunities available to them. We challenge our students to strive for excellence.
Don't miss your chance to get up close and personal with a wide range of aircraft. Friday will be your chance to meet some of the pilots of these aircraft and experience a taste of the Owensboro Air Show. As the sun sets, a few performers will take to the sky to entertain the crowds with an evening spectacle of nighttime airshow performances.
All eyes will be on the skies over the Ohio River in downtown Owensboro as performers showcase vintage warbirds, aerobatic demonstrations, and military jets, including the USAF Thunderbirds!
DreamFlight Charities 
Presents – Run the Runway 5k
September 30th at 10 am ET
Where: Danville-Boyle County Airport (DVK)
Early bird registration is now open for our first Run the Runway 5k!
We'll shut down the runways at DVK for a 5k walk/run event like no other! Enjoy numerous static displays along the course as you attempt to set your best time yet.
Registration is $20 per participant (additional processing fees may apply) until May 19th. Get registered today!