Aviation Heritage Park Museum will OPEN on
Festivities begin at NOON with a flyover.
Astronaut Terry Wilcutt and RADM Jay Finney will be here to cut the ribbon.
The museum will be open for tours and Col Wilcutt will hold a Q&A.
Join us for a FUN day at AHP.
London Air Expo
October 14th, at 10 am – 5 pm ET
Where: London-Corbin Airport (LOZ)
See vintage military and civilian aircraft up close at the 2023 London Air Expo on Saturday, October 14th, at the London-Corbin Airport! Admission is FREE! The event also includes airplane & warbird rides, kids inflatables, food vendors, music & more.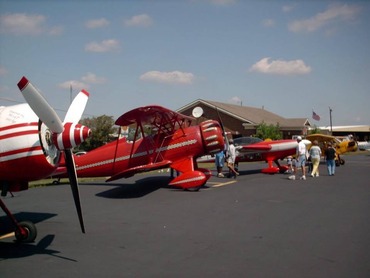 Mt. Sterling-Montgomery County Fly-In/Drive-In Breakfast & Aviation Day
Sept. 23rd, 7 am – 4 pm ET
Where: Mount Sterling-Montgomery Co. Airport (SME)
Join us at the Mount Sterling/ Montgomery County Airport for the 50th annual Mount Sterling Fly-In/ Drive-In Breakfast and Aviation Day. Breakfast starts at 7 am and ends around 11 am. Pilots flying in receive complimentary breakfast. Main activities start around 9:00 am and end around 4:00 pm.
We will once again offer a LIMITED number of airplane rides for a nominal charge (Sign up early, flights are first come, first serve, and fill up very quickly), a candy drop for the kids, food, and other various vendors and many fun activities for the whole family. You don't want to miss it. Bring your lawn chair. Free Parking.
See you soon!
Elizabethtown Fly-In Breakfast
Sept. 23th, 8 am – 11 am ET
Where: Addington Field – Elizabethtown Regional Airport (EKX) 
Breakfast every fourth Saturday of the month.
DreamFlight Charities 
Presents – Run the Runway 5k
September 30th at 10 am ET
Where: Danville-Boyle County Airport (DVK)
Early bird registration is now open for our first Run the Runway 5k!
We'll shut down the runways at DVK for a 5k walk/run event like no other! Enjoy numerous static displays along the course as you attempt to set your best time yet.
Registration is $20 per participant (additional processing fees may apply) until May 19th. Get registered today!